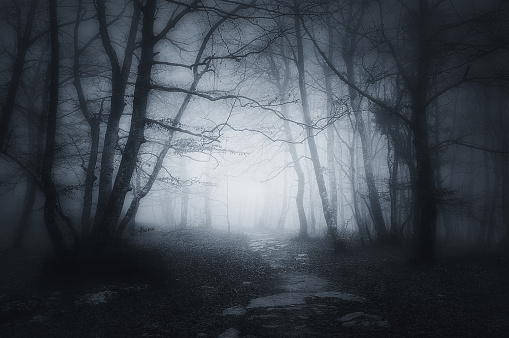 Here is a real life experience which I haven't been able to explain through logic.
Years ago, I visited an uncle of mine in an eastern country of Asia. He was around 70 at the time; a scientist who had distinguished himself in many ways. He also had undertaken a deep study of the paranormal.
During my visit he took me for a drive to a nearby town. As the road meandered into the woods, we came across large colonial houses, owned mostly by the government. Senior bureaucrats lived there.
We stopped next to a particularly imposing mansion. He said to me
" I lived there two decades ago (in the 1980s) when I worked with the government. No one wanted to live in this house inspite of its excellent condition. People said that ghosts infested this place."
"Did you believe in all this," I asked him.
"I didn't. That's why I volunteered to live here," he smiled.
Then he recounted an amazing story
"During the first fortnight itself, my wife told me that she often saw people in the house. All of them were bleeding with gunshot wounds. They would look at her and vanish. At night she would hear noises. I never saw any of this though. One night, I was walking in our huge garden next to this enormous tropical meranti tree. I looked up and saw a number of soldiers hanging from the branches of the tree. All had been tortured and were bleeding. One of them suddenly came down from the noose and stood in front of me. He told me that they had fought in the second world war. The Japanese had tortured and hung them from this tree. After decades, they were still trapped here. Suffering in unimaginable pain. This person was their officer and he told me,' You have the light in you. Help us so that our pain may end.'
After this encounter I researched and found that definitely there were these dead people's souls here. I went to scientists, seers, read scriptures and learnt many types of meditation for more than a year. Until I found this system of meditation which could deliver them. For more than a week I continued with deep contemplation, prayers and all that I had learnt. Until they were able to make their journey to the other realm. It is only then that peace returned to this mansion."
When we were leaving, from a portion of my eyes, just for a second I saw an officer all dressed in military uniform. He looked young and trim. He smiled at me and just vanished.
I couldn't explain this to myself because the vision was very profound. Real.
Maybe any expert can explain?